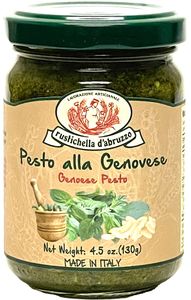 Rustichella Pesto
"alla Genovese"
That's Italian for
"from Genoa"
130 grams

Fragrant Ligurian basil, delicate extra virgin olive oil, salty Mediterranean pine nuts, Parmigiano-Reggiano cheese, sweet garlic, and a splash of bright white wine vinegar sets the Rustichella d'Abruzzo pesto concentrate in a class of its own.

This pesto concentrate has to be diluted by adding equal amounts of olive oil to taste. Ideal to toss with Rustichella d'Abruzzo Trofie with green beans or with capellini. A very versatile concentrate which can be used in marinades and spreads, in stuffings and for rubbing on grilled fish as well.

OK, so Karla just LOVES this pesto. Clean ingredients, LOTS of basil and olive oil, this is massively yummy! Bring love and life to your pasta - just heat up our pesto and serve.

Ingredients: Basil 45%, Olive Oil 44%, Sea Salt, Walnuts, Pine Nuts, Grana Cheese, Whey, Garlic, Corn Starch, Wine Vinegar, Natural Flavors.

Size: 130 grams (It's European!)









Thank You for shopping at HonestFoods.com, The Best in Gourmet Food!

Subscribe to the Honestfoods Coupon and Recipe Email Bulletin.


Enter your e-mail address, and we'll send you recipes, specials, food ideas, and the odd seasonal food tip! Remember, you must verify your email address to join. Check your e-mail and verify!

To place an order the old fashion way, print out our printable order form, or call us Toll Free (800) 584-4481 or (415) 657-0123.

We Accept VISA, MASTERCARD, AMERICAN EXPRESS, and DISCOVER.

We welcome Wholesale, Distribution, and Food-Service inquires. Natural food retailer, low carb/no carb retailer, restaurant, meat & seafood counter, and specialty food, gift & gourmet trade queries encouraged! To place a wholesale order for your store or gift basket company, please visit our wholesale catalog site or call us directly at (800) 584-4481.

Corporate Gifting inquiries welcomed. Call our Corporate Sales Division at (415) 657-0123.

Copyright ©1996-2022 honest foods.com All Rights Reserved. All other marks, images, and/or characters are trademark and property of their respective holders. Powered by Yahoo! Store.